Sheet Vinyl Flooring
The durability, practicality, and cost of vinyl flooring have made it a popular choice among homeowners and businesses alike. Sheet vinyl and vinyl planks and tiles share many of the same advantages. But there are also differences between the two types, making each predominantly well suited for certain applications. Your decision eventually will be made on the type of environment your home is in, the level of traffic that space sees, and the kinds of challenges it will face such as staining and accidental spills. Your choice will boil down to which characteristics are most important for your situation.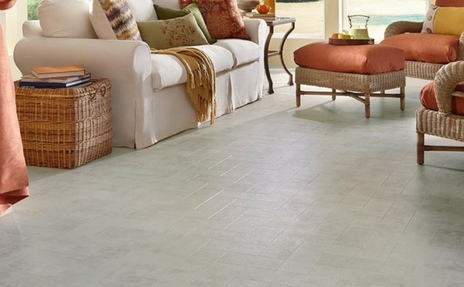 Advantages of Sheet Vinyl
One of the main reasons homeowners choose vinyl flooring is because any pattern can be printed to resemble a vast variety of materials like hardwood, stone, and tile. Sheet vinyl can be printed with lines that mimic the seams between individual planks and tiles.
A major advantage of sheet vinyl is its cost. It costs less than luxury vinyl planks and tiles with similar patterns. Sheet vinyl is mass-produced in huge rolls without the worry of precision cuts and waste. Provided your installer properly measures the space and properly cuts the sheets to fit, sheet vinyl is usually more affordable than vinyl tiles or planks.
When it comes to water resistance, sheet vinyl is the best option. Sheet vinyl is usually installed in one or two unbroken pieces, which means you do not have seams running between several individual pieces like you have with luxury vinyl planks and tiles. Seams make the moisture defense vulnerable in your floor and moisture can penetrate and damage the subfloor. Sheet vinyl is a much better barrier against moisture and is especially useful for bathrooms and other areas with a lot of moisture.
Both sheet vinyl and vinyl tiles or planks have their individual advantages. Your choice will boil down to what most important to you and how the floor is expected to perform. Our DIY customers will almost certainly prefer tiles or planks, but for areas where moisture is an issue, sheet vinyl is really the logical choice.
To learn more about sheet vinyl and to speak with one of our sales professionals, be sure to visit our Main Floor Carpet One Floor & Home showroom in Royal Oak, MI.